Intermunicipal Collaboration Frameworks: Lac Ste. Anne County & Town of Mayerthorpe Arbitration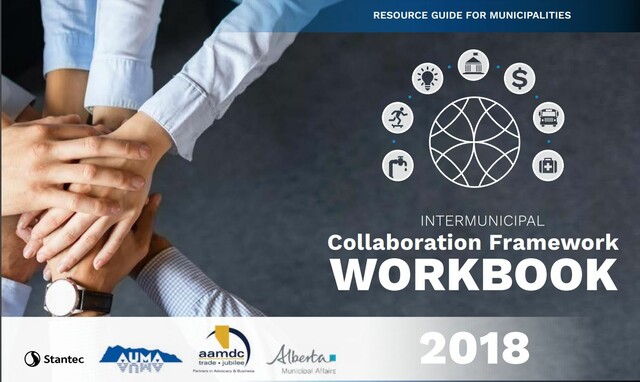 The Government of Alberta mandated Intermunicipal Collaboration Frameworks (ICFs) on October 26, 2017 for the purpose of fostering cooperation between neighboring municipalities. The key areas of focus are transportation, water/wastewater, solid waste, emergency services, recreation and any other services that benefit residents in more than one of the municipalities who are party to the ICF.
The legislation specifically mentions cost-sharing to ensure municipalities contribute adequately to facilities and services that benefit their residents, including those supplied by another municipality. Although not rooted in finances, out of necessity, these ICF negotiations must include discussions about the dollars and cents.
With support from partners including the Government of Albert, the Alberta Urban Municipalities Association developed this workbook as a resource for municipalities in developing ICFs.
In addition, the legislation states that efficiencies must be sought through integrated strategic planning and delivery of services and that thoughtful stewardship of scarce resources be at the forefront of the conversations.
Despite the good faith efforts of the Town of Mayerthorpe, the ICF mediations with Lac Ste. Anne County (LSAC) were not successful.  In order to finalize an ICF with LSAC, the municipalities must now go through the ICF Arbitration process.
On June 14, 2021 Minister McIver appointed Deborah Howes of High Clouds Incorporated as the Arbitrator for the matter.
Documents and submissions provided to the Arbitrator by the parties will be available on this webpage.
The ICF arbitration hearing will be open to the public and held between November 29 and December 3, 2021.  At this time, we are hopeful it will be an in person hearing and will be open to the public.
We anticipate having the Arbitrator's decision, or award, in early February 2022. 
The Town of Mayerthorpe and LSAC will be bound by the award and must adopt an ICF that reflects the award within 60 days.
The Town of Mayerthorpe will post any additional information on this website, as it becomes available in the ICF arbitration process.
For more information on the ICF Arbitration, please contact CAO, Karen St. Martin at the Town Office, 780.786.2416.
The Municipal Government Act requires ICFs to be in place by April 1, 2022.
Related Information:
Town of Mayerthorpe Culture, Parks, & Recreation Master Plan
Alberta Urban Municipalities Association ICF Workbook
Press Release: Town of Mayerthorpe Seeks Fairness in Cost Sharing For Recreation Services
Press Release: Open Letter to the Ratepayers of the Town of Mayerthorpe and Lac Ste. Anne County
Press Release: Lac Ste. Anne County Abandons Talks on Critical ICF Negotiations with Town